The Only Dumbbell
You'll Ever Need!
Dial up results and request your FREE Digital Information Kit by completing the form on the right.
Learn how Bowflex® SelectTech® dumbbells can help you get the results you've always wanted.
Discover how SelectTech® technology has revolutionized free-weight workouts.
See how strength training with Bowflex® SelectTech® dumbbells can improve your body and your life.
Determine which Bowflex® SelectTech® dumbbells and accessories are right for you.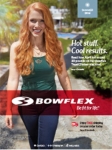 PLUS you'll receive our Bowflex® Catalog that contains our complete product line-up.
Once you complete this form, you'll be able to immediately view special bonus video on how SelectTech® dumbbells can work for you.
Request your DIGITAL information kit today or shop now.