Build

Muscle

&
Get Toned

with
SelectTech®

Dumbbell Exercises

watch the
how-to videos

Think you're tied to a whole rack of dumbbells at a gym?

Think again.

Do the same variety of exercises at home with just 1 set of adjustable dumbbells.

watch the videos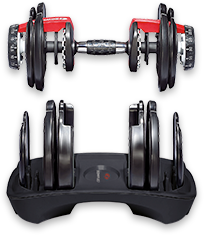 The variety you need. The exercises you want.


Below are a few of our favorite dumbbell exercises from our Trainer App to help you get tight abs, firm legs, sculpted arms and a strong chest.
Gym Quality Results At Home
Sculpt and tone your entire body with our how-to videos. Perform leg exercises such as wide squats, calf raises, stiff-leg dead lifts, and lunges to strengthen your hamstrings and quads. Target your back with alternating rows, wide rows and dead lifts. Sculpt your chest with presses and fly variations. Tighten your abs with crunches, lying leg raises and lying trunk rotations. Build bigger arms with curls and overhead triceps extensions.

want more
exercises?
Get More Workout Videos
with the


SelectTech® Trainer App

FREE TIPS, techniques and full body exercise programs are available to help you achieve the best results. Stay motivated and track your progress. Get unique workouts for every single day for 6 weeks. No repeats. No boredom. Big results.