How It Works
Bowflex® SelectTech® Dumbbells provide you with a whole new exercise technology that's easy to master, which gives you dramatic results.
This unique weight system lets you go from 10 lbs to 90 lbs, with the SelectTech® 1090 Dumbbells in just a simple turn of the dial. It's really that easy.
The secret to how it works? A locking mechanism that seeks and then locks only the weight you select. It works like a safe - and you always know the combination.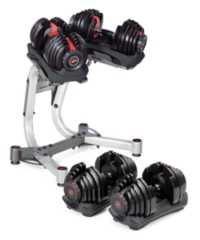 Change resistance with one turn.
Want to lift just 10 lbs? No problem. Just set the dials to 10 and lift. It's just that quick. Want a bigger challenge? Say 40 lbs? Move the dials to 40 and lift.
All you have to do is rotate the dials to the weight you want - and bam! SelectTech® tumblers automatically fasten to the weight you want to lift.
This innovative design allows us to shrink 34 separate dumbbells down to only 2! That saves you a ton of space - not to mention a whole lot of money.
Share your Bowflex® story and interact with our trainer & dietitian.

Our state-of-the-art mechanism selects only the weight you want.